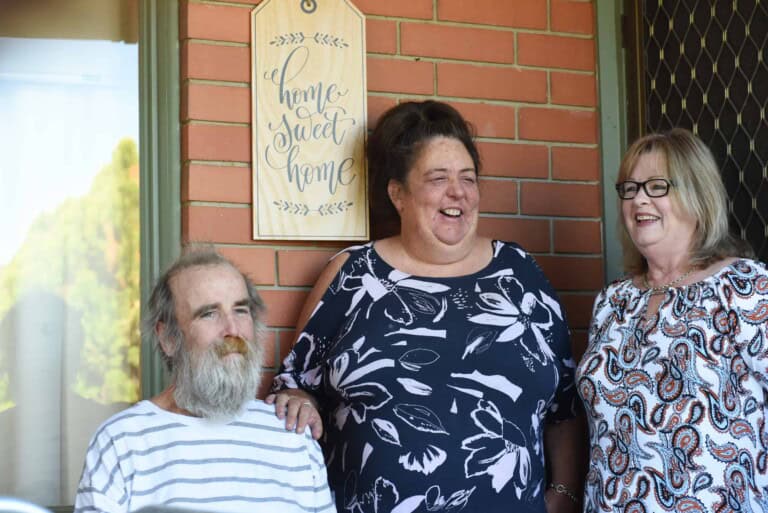 Having their own house to call home is a dream Todd and his carer, Pip, never thought they would realise.
Having spent 15 years living in Supported Residential Facilities (SRFs), they grew used to the lack of privacy and constant noise that comes from living alongside 40 others.
When Todd's health reached crisis point at the start of the year, it was the catalyst for change.
Todd suffers multiple health issues including diabetes, schizophrenia and advanced liver disease.
With the terrible reality that Todd may only have months to live, Pip was facing her own grim future – homelessness.
"Our biggest concern was that because Todd's illness is terminal, when he passed I would be in a very vulnerable position," Pip explains.
"Because I would lose the Carer Allowance I would then be on Newstart, which wouldn't be enough to cover my costs of living in the SRF.
"We didn't know where I would have lived."
Their support worker at UnitingSA, Jan Walters, says it was critical to find a solution.
"Pip would have definitely been homeless without a shadow of a doubt," she says.
"We got in touch with UnitingSA's Western Adelaide Homelessness Services and things snowballed from there."
Homelessness Services case manager Jess Spehr worked quickly to find secure accommodation.
In a lucky break, everything aligned and they were soon visiting a newly vacant two-bedroom property in Findon.
The rest, as they say, is history.
Pip was assigned community housing and because she is Todd's carer, he also moved in so that she could continue to provide ongoing support through his declining health.
Todd says the house, which is fitted with ramps, rails and other accessibility features, has been transformative for him.
"It was probably the best day of my life when I walked in here," Todd says.
"There's no yelling, no doors slamming, no being woken in the middle of the night.
"It's lovely, it's peaceful and we have great neighbours.
"It really is a dream."
Pip says it is the simple things she is relishing – choosing her own meals, pottering in the garden, inviting friends over for lunch.
"I've always loved cooking but we weren't able to in the SRF so that's probably the biggest impact – I love having that choice of what to eat and when to cook," she says.
"Our friends also didn't like to visit us at the SRF because there was nowhere private and with all the other people, it could be confronting.
"It's such a nice change to be catching up with our friends now."
For Todd, as well as the freedom that comes with living independently, he has found comfort in knowing his dedicated carer has somewhere to live after he is gone.
"I am just so relieved knowing that after spending all these years supporting me, she now has somewhere safe to be."
The pair want to thank "a bucket load of people"  for coming together to support them, including staff at UnitingSA, Unity Housing, the Queen Elizabeth Hospital, SRF Health Assessment Team and Sunnydale Supportive Care.
In Todd's words: "It really is a miracle."