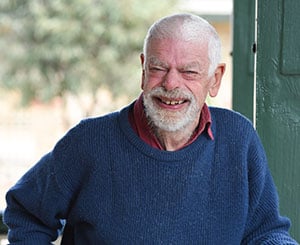 Peter Van Der Myle – or Pete as his mates call him – has an infectious smile.
When you meet him, there's a good chance he'll give you a hug as if you are old friends.
He loves listening to music, reading books and watching sport, especially the Crows.
He is confident and values his independence, although this hasn't always been so.
Pete was born in Holland and moved to Australia with his parents when he was a baby.
In the years that followed he lost contact with his family and started moving between many Supported Residential Facilities (SRFs), which he says weren't always happy places.
Eight years ago, Pete was teamed up with a new Community Support Worker, Donna Delaney.
Donna is part of UnitingSA's SRF Support Program, which helps people with complex needs, such as mental illness and intellectual disability, live in the community.
"It's really fulfilling work," Donna says.
"The program makes a big, big difference in people's lives.
"We've had clients who wouldn't even leave the SRF but with the help of their support workers and building that rapport and that trust, many of them have started to thrive."
When Donna first came to work with Pete, he was cautious when venturing out in public.
"Pete was one of those people who, when you were walking down the street, he would need to be holding your hand or grabbing onto you," she explains.
"He has gone past that now and realises he doesn't have to cling on because you are there beside him.
"He is more confident about himself."
The pair spend time each week exploring the local community, with some of their favourite outings including a cuppa in Port Adelaide and a trip to the library, followed by a drive to see the ships in Outer Harbor.
They also visit the Alberton Hub each week where Pete enjoys getting involved in the art and craft activities, as well as having a game of 8-ball.
Donna will also help Pete get ready for the Opportunity Games later this year, in which he hopes to repeat last year's efforts when he took home several medals.
The games, which include physical activities such as netball, bike racing and tunnel ball, are run by Port Adelaide Enfield Council for people who live in Supported Residential Facilities.
Pete says many support workers have spent time with him over the years, but it is his connection with Donna which has had the greatest impact.
"I've had so many care workers it's not funny – some of them were good and some of them were bad," he says.
"Donna is my favourite because I trust her.
"I haven't got a mum and she is like my mum."
For more information on our SRF Support Program call 8440 2299.