UnitingSA is calling for urgent cash and food voucher donations for its annual Christmas Appeal as it faces turning away families in need for the first time in its 103 year history.
UnitingSA CEO Jenny Hall said UnitingSA's Emergency Relief and Homelessness Services began taking referrals for the annual Christmas Giving Program in mid-November.
There have already been 600 grocery vouchers allocated to needy families and individuals, compared to 400 last year.
"That demand is only expected to rise over the next week leading up to Christmas as families realise their already stretched budgets can't cope with the increased demands of the festive season," Ms Hall said.
"Families are already being faced with the daily challenge of paying bills or putting food on the table, as everyday costs like rent, power bills, fuel and groceries rise, and Christmas just makes that challenge even harder.
"We understand that everyone's household budgets are stretched and we greatly appreciate the $20,000 our 2022 Christmas Appeal donors have raised so far – but we need more help to ensure families receive the critical support they so desperately need."
Ms Hall said the demand for gifts for children had also increased this year.
"Last year we helped a total of 300 individuals and families. This year we already have gifts allocated for 430 children.
"That's on top of the extra calls for 200 more food vouchers, and there is still another week until Christmas.
"We've never seen numbers like this before."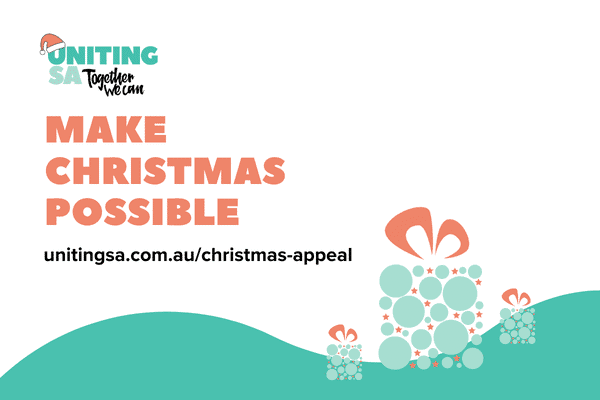 Each year, UnitingSA runs the appeal and creates a special gift giving room located at its Dale Street Emergency Relief office in Port Adelaide. Families and individuals are then able to come in and choose gifts for their children.
UnitingSA also hosts a free Christmas Day lunch for those who would otherwise be alone. "We expect a larger group than normal at this year's lunch too," Ms Hall said.
"We are really grateful for all the support we have received so far, which has included some large donations from some of our corporate partners like City Collective, Kennett Builders, Lakes Resort Motel, Butterfields, and SA Power Networks, as well as many generous individual donations.
"But we do need more help this year, and what we really need now is either donations of cash so that we can buy more food vouchers, or gift cards and vouchers to help us bridge the gap for this extra demand for help."
Donate online now or call 08 8440 2200 to make a donation over the phone. Cheques can also be sent to PO Box 3032, Port Adelaide, SA 5015.
For further information:
Gail Heritage
Media and Communications Lead
UnitingSA
P. 0466 419 528
E. gheritage@unitingsa.com.au