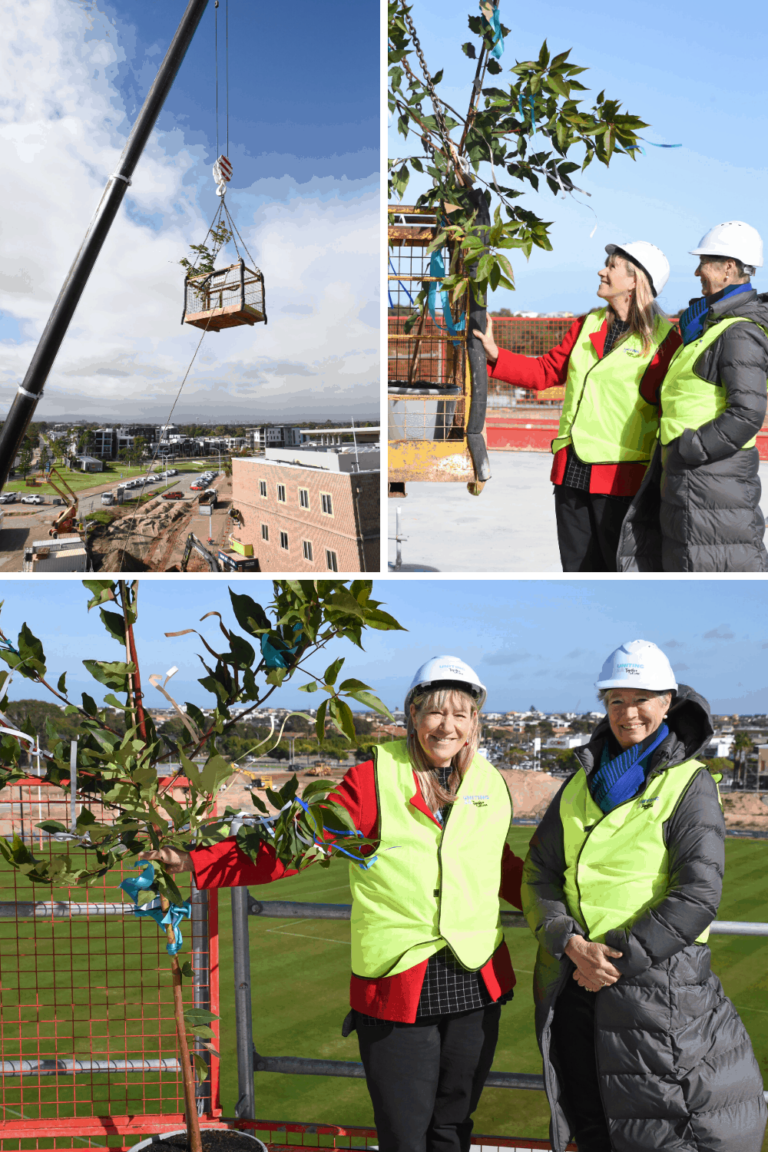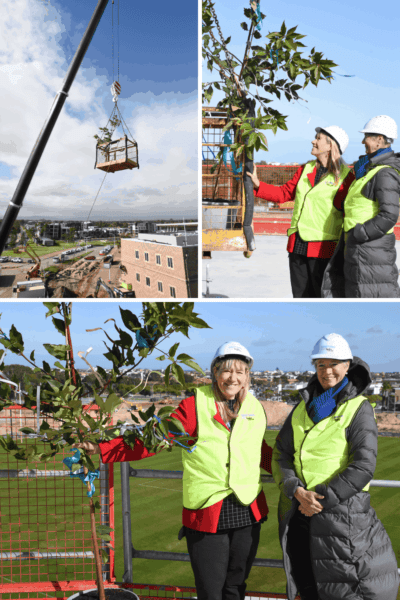 UnitingSA's aged care complex under construction in the heart of Adelaide's west today celebrated reaching its highest structural point with a topping out ceremony.
UnitingSA West Lakes will incorporate residential aged care, retirement living, retail and office space on 6,600sqm fronting West Lakes Boulevard, at the former Football Park site.
In keeping with time-honoured tradition, the topping out ceremony included the craning of a tree onto the top floor of the five-storey building.
UnitingSA Board Chair Gael Fraser says it is a significant milestone in the development, which is on track to be complete by the end of the year and welcome its first residents in early 2021.
"We are thrilled we have been able to move safely forward with this project amid COVID-19 and that we are on track to have building works complete by Christmas," Ms Fraser says.
"This complex will provide a home to cater for people's needs through every stage of the ageing journey – from retirement living to residential aged care and, where needed, memory support for those living with dementia.
"UnitingSA West Lakes has been a long-held vision of ours and we are excited to be part of a growing community which has older people at its heart."
UnitingSA West Lakes is creating work for about 900 people during construction and once operational, will employ an estimated 150 people ongoing.
Key features of the complex include:
Three storeys of residential aged care including 108 private rooms with en suites
A memory support unit for people with dementia
A top level featuring 17 two and three-bedroom retirement living apartments with balconies and views across the oval, lakes and to the hills
Ground floor shops including a café, hairdresser and allied health services, which will be open to the public.
UnitingSA CEO Libby Craft says by bringing the different types of accommodation into one complex, the development will help address the varied aspects of ageing.
"For couples whose health and physical needs change at different rates, this development will provide the option of one person living independently in a retirement apartment while the other has their higher needs met in residential aged care," she says.
"We know being able to live under one roof will bring peace of mind to many during this later stage of life.
"Across the aged care sector, the need for this combination of accommodation on one site is increasingly being recognised as important to people's ongoing health and wellbeing."
The topping out ceremony included representatives from UnitingSA, Walter Brooke architects and Kennett Builders, who are carrying out the construction.
The project is part of the broader transformation of Football Park, being undertaken by Commercial & General, which includes approximately 1300 new homes and a vibrant retail precinct including shopping, dining and community services.
CONSTRUCTION SO FAR
At its highest point, UnitingSA West Lakes measures 23.15m
Workers inducted to date sits at 671 and is expected to reach 900 people by the project's conclusion
65,000 hours have so far been worked on the construction
10,000 square metres of concrete slab has been poured
300 tonnes of Reo has been used
548 tonnes of steel has been installed
17,497 bolts have been used
DID YOU KNOW?
Topping out ceremonies are most commonly believed to have their origins in Scandinavia, where it is said in ancient times a tree was placed on top of a new building to appease the spirits displaced during construction
Some accounts say the practice dates as far back as the building of the Egyptian pyramids, with a tree placed on top of each pyramid when complete to honour those who died during construction
Nowadays, the ceremony is celebrated around the world to mark a construction milestone and, some say, bring good fortune to future tenants
At UnitingSA West Lakes, the tree used in the topping out ceremony will be later planted on-site for future residents to enjoy.
For more information about UnitingSA West Lakes including floor plans, artist impressions and sales inquiries, click here.