UnitingSA is proud to announce that Aboriginal Family Worker Aunty Ingrid O'Loughlin has been recognised for her significant contribution to the arts in the Port Adelaide community.
Aunty Ingrid was named the winner of the 'Contribution to the Arts' award at this week's Port Adelaide Enfield Council Aboriginal and Torres Strait Islander Awards, which aim to recognise, acknowledge and celebrate First Nations people and their community contribution.
Aunty Ingrid is a much-loved member of UnitingSA's Child, Youth and Family Services team and Reconciliation Action Plan Committee.
UnitingSA CEO Jenny Hall said she was delighted to see Aunty Ingrid recognised for her life-long passion for keeping Aboriginal culture alive through visual arts projects.
"UnitingSA is so fortunate to have Aunty Ingrid in our team, and to see the community impact she creates by weaving her creativity with community engagement in the Port Adelaide Enfield area, where she has lived for many years," Ms Hall said.
"As part of our Connected Families, Minya Ones and Taperoo Community Centre school holiday programs, Aunty Ingrid shares cultural and traditional knowledge. Through hands-on visual art activities, she shares the meaning of traditional Aboriginal symbols and stories of country with young people.
"Importantly, her art projects also educate non-Aboriginal community members about First Nations people and culture, providing a stepping stone to a more welcoming, inclusive and reconciled society."
A Narrunga woman born and raised in Port Pearce, Yorke Peninsula, Aunty Ingrid later moved to Adelaide where she raised her family. She learnt traditional forms of Aboriginal art through Elders, and now passes these important learnings onto younger generations through personal and work-related artistic endeavours.
Aunty Ingrid can make art out of anything, often incorporating natural materials and transforming them into pieces with rich cultural significance and stories.
Her art is centred on storytelling, and through her many collaborative projects, Ingrid has been able to share culturally significant stories in a way that is accessible for all.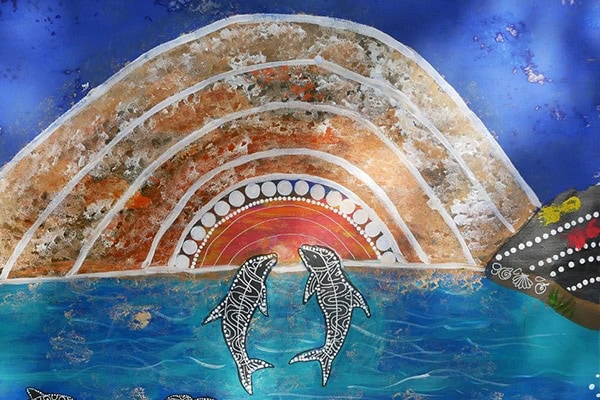 Aunty Ingrid's artworks and murals play an important role in sharing stories of people, memories, events and traditions as well as landscapes and places that are of significance to our local community.
Aunty Ingrid has been involved in the following projects around the City of Port Adelaide Enfield:
In 2011, Aunty Ingrid accepted a commission to paint a collaborative mural for the implementation of Mount Carmel College's Reconciliation Action Plan entitled 'Songlines', which depicted both the Josephite traditions of the school and the rich Aboriginal and Torres Strait Islander histories of the Port Adelaide region.
In 2017, Aunty Ingrid helped create the Harmony Day installation in the garden courtyard at UnitingSA's Family Centre in Port Adelaide. This installation consists of more than 150 wooden discs, painted brightly to represent what harmony means to each person involved.
In 2020, Aunty Ingrid led the creation of the 10 metre mural at UnitingSA's Family Centre in Port Adelaide as part of NAIDOC Week activities. The mural represents First Nations people in the western suburbs, particularly the influence of the Port River and the Yurta Bulti region of Kaurna Land.
Aunty Ingrid's eye-catching visual art was included on the City of Port Adelaide Enfield's 'Nunga Week Program 2021', as well as featured on their 'Have Your Say' webpage.
In 2022, Aunty Ingrid was invited to facilitate a community mural at Tauondi Aboriginal College for the 10th anniversary Reconciliation in the West Event.
Artwork negotiated with the City of Port Adelaide Enfield Council new Cultural Centre -YIPTI YARTAPUULTI
Congratulations Aunty Ingrid. We are very proud to have you as a member of the UnitingSA team.