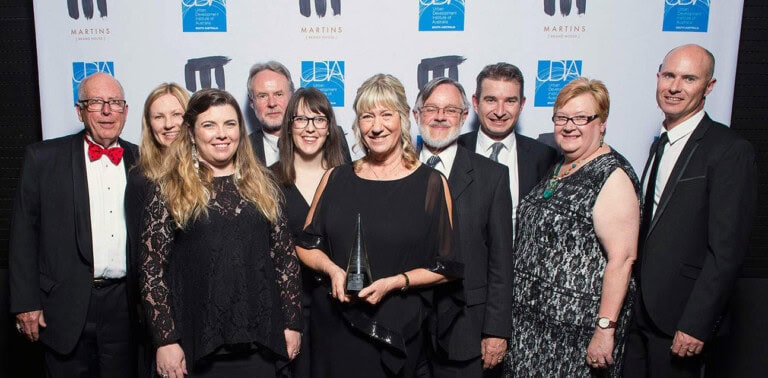 Wesley House Aged Care has taken out the Innovation in Development award at the Urban Development Institute of Australia's (UDIA) SA Awards for Excellence.
Wesley House, at Semaphore Park, was recently transformed with a $40 million redevelopment, creating 168 bedrooms with ensuites, large activity spaces, a hairdresser, café, secure memory unit and landscaped gardens.
More than 300 people attended the awards night at the Adelaide Convention Centre on Friday, November 3, where UnitingSA CEO Libby Craft accepted the honour.
"On behalf of our committed Board, dedicated staff and the community we serve, it gives me great pleasure to receive this award and recognition tonight," Ms Craft said.
"As an organisation serving over 13,000 South Australians in need each year, we are committed in being efficient, effective, sustainable and environmentally sound."
Ms Craft gave special thanks to Kennett Builders and Adelaide architects Walter Brooke & Associates, as well as UnitingSA staff and "of course most importantly the residents – because as we know it is the people within our facilities that make them wonderful places".
UDIA Awards judges praised Wesley House's innovative design, especially its environmental focus.
"Judges thought the provision of a 250 KVA generator that not only maintains power to the facility during black outs, but activates during periods of high demand reducing augmentation and network charges, complemented by a 130 kW solar power system to maintain critical power supply was commendable," they said.
"Implementation of multiple environmental, sustainability and redundancy systems ensures long-term viability of this development."
It is the second major award Wesley House has received this year – the first was in June when it was named joint winner of the Aged and Community Services SA&NT Award for Excellence in Aged Living Design.
The redevelopment was completed over three years and was officially launched with a celebration in May this year.