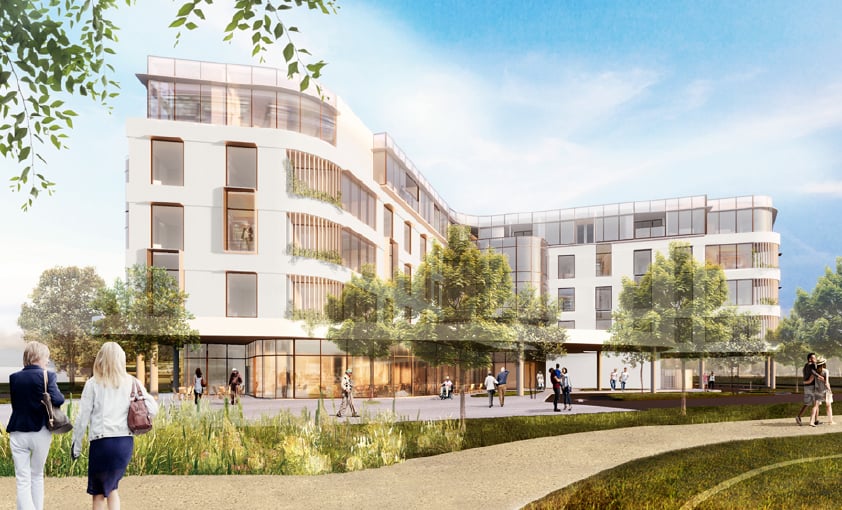 We are excited to unveil plans for a $50m development in Adelaide's west, which will put aged care at the heart of the community.
UnitingSA West Lakes is a five-storey development incorporating residential aged care, retirement living, retail and office space.
The development will be located on 6,600sqm of land fronting West Lakes Boulevard and forms part of the transformation of Football Park, being undertaken by Commercial & General.
It will replace the north-east corner of the football stadium, which is expected to be demolished as part of the WEST redevelopment within weeks.
The development will provide high quality accommodation for older South Australians, while supporting them to maintain an active lifestyle and connection with the community.
Among the development's key features:
Three storeys of residential aged care including 108 private rooms with en-suites
An 18-bed memory support unit for people with dementia
A top level featuring 17 retirement living apartments with balconies
An active street frontage including café, hairdresser and allied health services, which are open to the public.
"UnitingSA is committed to ensuring older people have all the support they need to live a meaningful life within their community," UnitingSA Chief Executive Officer Libby Craft said.
"Aged care sites are often found in suburban backstreets but this development changes that and brings residents into the vibrant hub of the community.
"The innovative design invites the wider community to come in to enjoy the ground floor shops and services, while also making it easy for residents to get out amongst the action.
"With everything at their doorstep, residents will be able to easily access parks, shops, cafes and health care. As we age, this is more important than ever."
Plans are expected to be lodged with Charles Sturt Council in the coming days and building is anticipated to commence early next year.
The development will provide an economic boost for the area, with more than 400 jobs estimated during construction and 100 ongoing.
Commercial & General's General Manager Communities Chris Menz said he was "delighted that UnitingSA will also be joining the WEST community with its state-of-the-art aged care facility".
"Its visionary design, integrating into the Charles Street precinct, will set it apart from other developments of its kind in the State," Mr Menz said.
"This new development confirms WEST as the premium choice for all kinds of living and stages of life."
Charles Sturt Council Mayor Angela Evans also welcomed the plans.
"The City of Charles Sturt value the contribution elders make to our community and are strongly committed to supporting them to live their lives with independence and vitality," she said.
"I look forward to UnitingSA's state-of-the-art aged care facility joining our city in the WEST development and trust that their residents will enjoy the very best of our unique waterway and coastal living, the new local shopping and recreation precinct and all that West Lakes and our community have to offer."