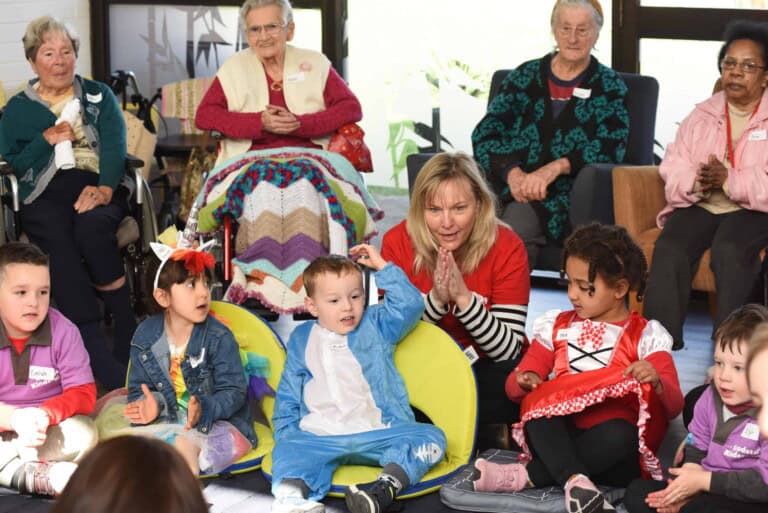 A new music program is bridging the 90-year age gap between pre-schoolers and residents at UnitingSA's Regency Green Multicultural Aged Care home.
The Intergenerational Music Therapy Program is part of the Paint the Parks and Gardens REaD Collective Impact project, which aims to develop children's literacy skills from birth.
Children from the Parks Children's Centre and Goodstart Early Learning Angle Park are travelling by bus every Tuesday to visit Regency Green to sing and play music with residents.
The group moves through a repertoire including golden oldies, such as 'Daisy, Daisy', through to modern children's hits, such as the Wiggles' 'Rock-a-bye Your Bear'.
Shakers, drums, streamers and even a colourful parachute are used during each session to promote gross and fine motor skills, coordination and creativity.
Music therapist Natalie Oliveri, who leads the group, says it is having incredible benefits for young and old alike.
"Some of the goals you have for young children within musical activities are the same sort of goals that are incredibly beneficial for people who are older," she says.
"For example, we use streamers in some songs which helps with coordination and physical movement.
"The main purpose of music therapy is to help develop and maintain health, wellbeing and functioning."
The social interaction is equally important and from the moment the children arrive, it is smiles all around.
"They get so much joy out of being with other people," Natalie says.
"It's a sense of inclusion and it's about engaging everybody."
Regency Green activities officer Jessie Liu says the program shows the power of music in uniting the generations.
"It's really interesting because some of our residents don't understand English but they still enjoy coming and joining in," she says.
"There are also residents who don't come to other activities who are really enjoying coming to this.
"This is a very powerful addition to their lives."
The eight-week Intergenerational Music Therapy Program is the first time the Paint the Parks and Gardens REaD project has expanded to include residents in aged care.
UnitingSA is one of 14 organisations involved in the collective impact project, which motivates the community to read, talk, sing and draw with children every day.
Pop-up libraries, book swaps and a mascot, Parker the Pelican, are just some of the ways the project engages the community to boost literacy levels.