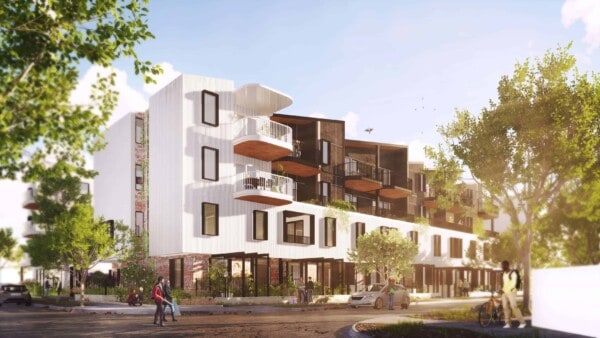 We are excited to announce plans for a new community housing project in Prospect, which will greatly improve access to affordable housing in the area.
The UnitingSA Housing development will include 40 apartments over four levels, centred around an internal courtyard to encourage interaction among residents.
Prospect Council provided planning consent for the development this week, marking a significant milestone in this important project.
UnitingSA CEO Libby Craft says the development builds on the organisation's goal to ensure there is safe, secure, affordable housing for all in our community.
"This project will replace six outdated properties with 40 modern apartments, greatly increasing positive housing outcomes for our community," Ms Craft says.
"There is so much revitalisation happening in Prospect and to be a part of that change is really exciting.
"We are delighted the City of Prospect can see the value in our vision and look forward to contributing to the mix of housing in the area and responding to community need."
The development will be located
on a 2,240sqm site on the corner of Gurr Street and Devonport Tce, near local shopping precincts and public transport routes.
The design, which was developed in collaboration with City Collective, incorporates communal and private outdoor spaces for residents, along with vertical gardens and bike storage to support healthy lifestyles.
Ms Craft says it will cater for a diverse mix of residents of all ages, from single occupants to small families.
"We want to build community housing that is accessible to a broad range of people in this highly valued location," she says.
"Considerable time has been spent to ensure the design provides for a high quality development that links residents with their local community and enhances the vibrancy of the area.
"We are really excited to progress work in 2021 – it's going to be a big year."
UnitingSA Housing has another two community housing developments currently being built in Kurralta Park and Ferryden Park, which are both set for completion next year.
Construction on the Prospect development is anticipated to begin late in 2021 and continue through 2022.